One of the greatest inventions that brings convenience to our fingertips, quite literally. Switches are to illuminate our houses. Giving all the credit to the lights and bulbs may be partial because all of it is controlled by one thing – switches. If you are someone who is highly interested in learning about switches and planning to revamp your place with the upcoming modern ones, then you have come to the right place.
Before looking at the changes in the switches, let's understand what they are.
A switch is an electrical device used to operate electrical appliances by giving them the desired power that is required to run the appliance. In simple terms, it is a device that connects or breaks the connection between an electric current and the appliance. So, when you turn the switch on, the electric supply reaches the appliance and it starts working.
What has changed till now?
In earlier times, switches were only used for the purpose of on and off. With changing times and requirements, modern switches are now used for various purposes than just switching on and off. Some of these purposes include the adjustment of the brightness of lamps, regulation of speed of the fan and even adjusting the temperature of a refrigerator. The regular switches are mostly the same these days. They all make a mechanical click sound and are wall mounted. The major difference after the advancement in technology is that we can now use touch and motion-sensitive switches. Here are some of the types of switches that were used in the earlier times:
The quick break mechanism
Push button light switches
The toggle light switches
Old toggle light switches
Modern toggle light switches
Rocker light switches
Dimmer switch

And the need of the hour – Modular switches. If you wish to know in-depth about the older version of switches, then you can research the mechanism and making of it but Modular switches, today, are changing the game!
Modular switches are the trend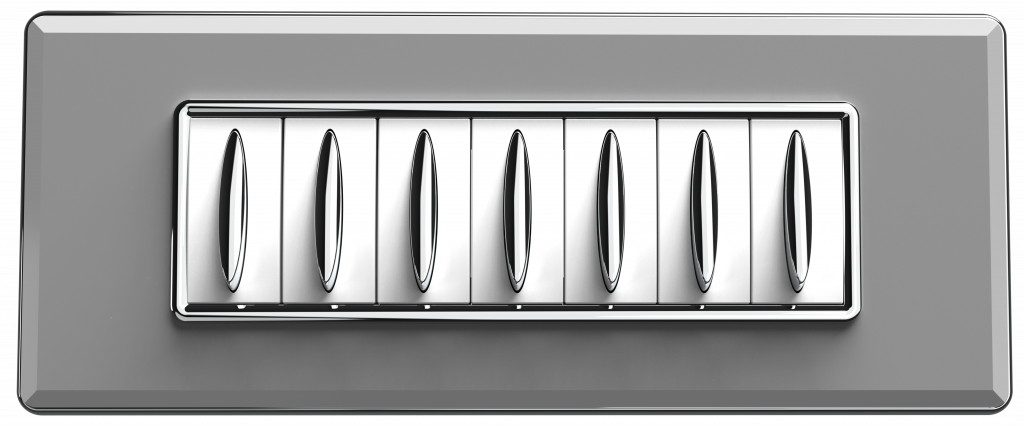 One of the most convenient, appealing, and widely used are modular switches. With the best style, durability, and range, modular switches have gained a good amount of popularity in recent times. While the other switches work perfectly fine, modular switches with their fancy electric switchboard designs are known to blend completely in with the interior of your house. Matching your switches and sockets' components to the interior design is important when installing them in modern residences and commercial buildings. The game-changing idea of a modular switch was to introduce plates. The traditional switches are screwed on the wall while the modular switches are covered with plates that do not ruin the looks of your interior and blend in with the colors of wall painting. Elleys' Switches, one of the best switch companies, were one of the first to introduce the plate solution for a much more aesthetic look and design.
When it comes to the mechanism of these switches, they are not very different from conventional switches. They do have a number of benefits over others when it comes to appearances and functionality. They majorly offer a screwless electrical solution for trouble-free electrical wiring.
Advantages of Modular Switches
While a lot of things depend on what brand/company you are purchasing your switch collection from, there are a lot of arguments that state modern electrical switches are better than older ones. It is important to choose one of the best switch companies while opting for them. Let's deep dive into what they have to offer:
Safety
Safety should be our topmost priority when we plan on dealing with any kind of electrical device. Modular switches are made so that they use the least form of metal, making themselves risk-free from electrical shocks. The traditional switches were majorly exposed to metal and are attached using screws that may cause an accident or short circuit if we lack in maintaining them.
Elegance with a wide range
Without a doubt, modular switches are much more elegant and complement the interior of your space. With elegance, they are also available in various shapes, designs, coatings, and colors. They are also available in different sizes for different requirements like 12 module switchboards, 6 module switch boards, and 8 module switchboards, which are used respectively according to the requirement of the space.
Efficiency
The modular switches are thoughtfully manufactured and put through a lot of endurance tests. The internal wiring of these switches is also made in such a way that it lasts longer.
Versatility
The number of activities and spaces that these switches can be used for are numerous. This includes automation, signaling, security, and data transmission. They are highly adaptable and multifunctional and can be used in various places of your home, office, or industrial space.
What are the different types of modern switches you can opt for?
Designer switches: Looking for a fancy electric switchboard design? Designer switches are the answer. They are specifically designed to bring out the best in your luxurious home. While they do serve the same purpose of on & off, they come with very antique designs and are sophisticated with various plate choices.
Smart switches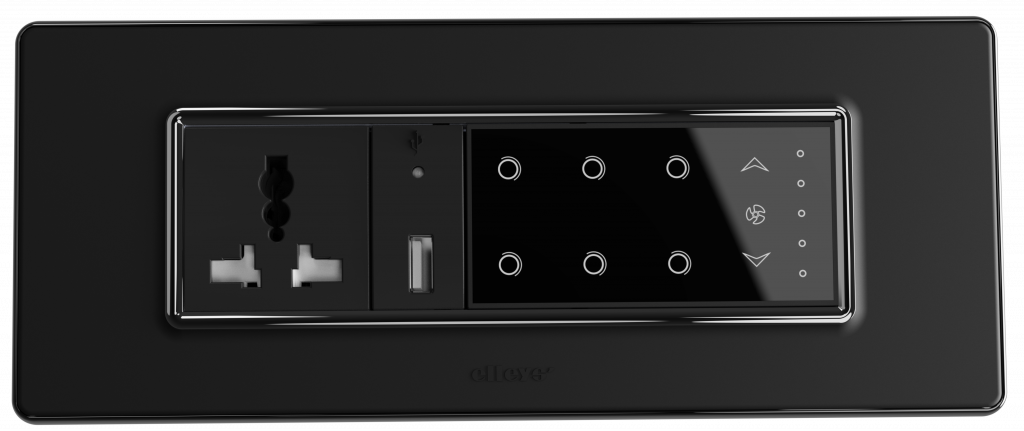 Making the best use of technology, smart switches use one or more sensors to manage your fixtures and appliances. Their main function is to ease the operation while giving a futuristic feel to your spaces.
Touch switches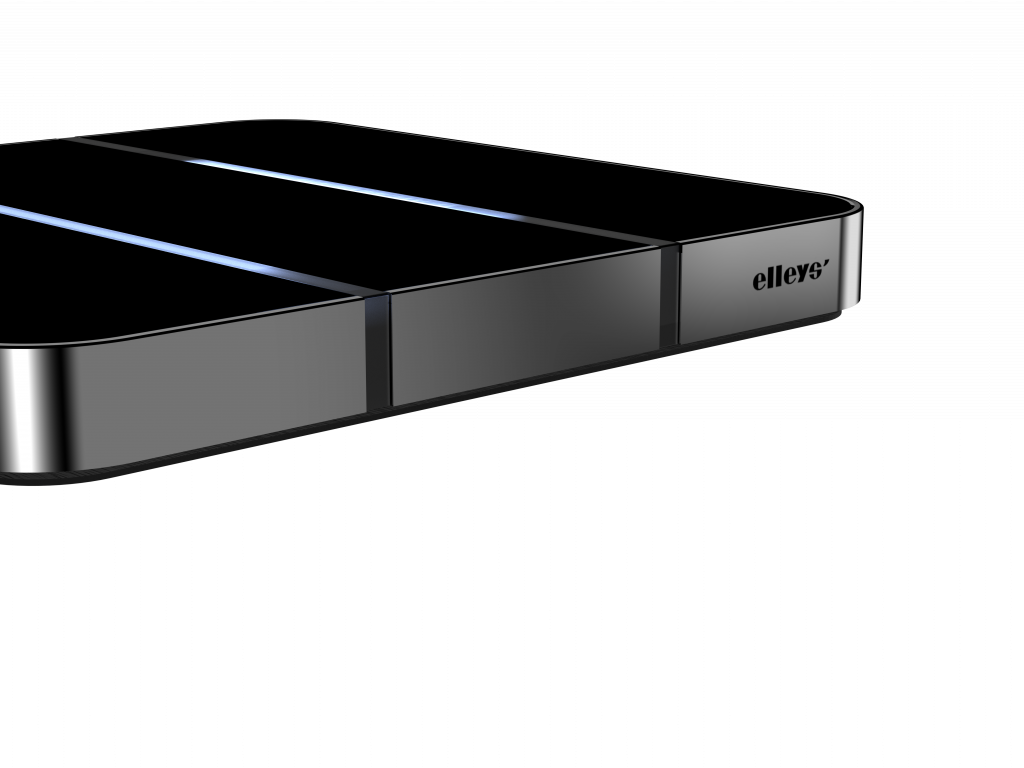 One of the best things you can install in your spaces is touch switches. Amalgamating the best of two worlds, technology, and opulence, touch switches are the smartest choice you can make. These noiseless switches have advanced functions that can let you control things like speed of the your appliances, brightness or dimness, and many more just by swiping or tapping.
Key aspects of having modern switches
Welcome a smart installation home
Having modern switches takes good care of your and your family's safety, especially toddlers. Modern switches enable you to turn on or off any device or appliance just by touching or even a remote keeping you completely safe from unknown shocks. They also enable you to link your smartphones that can be used remotely in cases of emergencies, saving your personal space from hazardous accidents and a good amount of electricity.
Reduce your bills
People who choose modern switches, especially home automation, have seen a drastic change in their routine bill amount. While giving an appealing look and beautifying your home aesthetics, they help you save a lot on energy, therefore, saving your costs on bills.
If you think you need a home makeover or are planning to install a whole new and modern lighting system, you can check out a wide range of technologically advanced switches with Elleys'. Choose a versatile range of designs and make your space smarter soon. Check out every detail here.